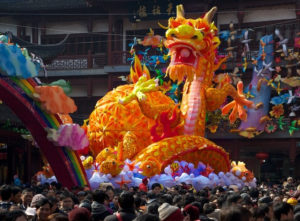 As Christmas draws closer, people all over the Western world have been preparing with great excitement, and Chinese people all over the world have begun preparing for the most important celebration in their calendar, the traditional Chinese New Year.
It is always interesting to compare the two most important festivals from West and East. Firstly, the origins of the two festivals are completely distinct from each other. Christmas is the day when millions of Christians celebrate the birth of Jesus Christ. Countless joyful children wake up early on Christmas morning and look forward to lovely presents from the mysterious and affable Santa Claus.
The legend of Chinese New Year, on the contrary, is a far from loveable story. According to Chinese mythology, on or around the first day of Chinese Lunar year, 'Nian', a huge grisly beast, comes out of hiding to feast on human beings, especially young children. Since Nian's weakness is purported to be a fear of loud noises and the colour Red, people use firecrackers, drums, red robes and couplets written in red paper to scare it off. That is why celebrating Chinese New Year is called "Guo Nian" in Chinese, which translated literally, means "getting rid of Nian."
Compared to Christmas which has a fixed date, the date of Chinese New Year varies every year due to the Chinese Lunar calendar. Generally speaking, Chinese New Year is around the end of January and the beginning of February. New Year's Eve is the time for families to reunite and celebrate the festival with a splendid dinner. For the first three days of the New Year, people usually have a range of events and activities and visit their friends and families.
Traditionally, the celebration of the Chinese New Year ends in another significant festival – the Lantern Festival, where people have glutinous rice balls named "Yuanxiao" or "Tangyuan" to treasure the last moment of families' annual reunion and light various lanterns to show their wishes for the new year.
In spite of these apparent differences, when Santa meets Nian, however, something intriguing happens. In recent years, China's Christian population has reached over 100 million, which makes Christmas an increasingly significant festival in China. Furthermore businesses also find Christmas a great time for sales and marketing, as gifts are exchanged on the day. Santa has developed a fascinating strategy of 'localisation'. Not being an official holiday in China does not prevent Christmas from being celebrated and enjoyed by an increasing number of young people in this large country.
当圣诞老人遇到年兽……
  圣诞的脚步已经越来越近,世界各地的人们都开始期待狂欢的时刻,而全球华人也开始为最重要的传统节日——农历新年做准备了。
给东西方的这两大节日作对比一向是件有趣的事情。首先,两大节日的起源就大相径庭。作为典型的宗教节日,圣诞节是几十亿基督徒庆祝耶稣基督诞辰的日子。每年12月25日,虔诚的人们都会为即将到来的崭新一年许下自己的心愿,而无数欢乐的孩子们都早早从睡梦中醒来,翘首以盼神秘而慈祥的圣诞老人给他们带来可爱的圣诞礼物。
与之相反的是,中国新年的传说可不是什么美丽动人的故事。据传说,每逢中国农历新年的第一日,一种恐怖的巨兽"年兽"便开始兴风作浪。它以人肉为食,尤其喜欢吞食儿童。据说年兽的弱点是害怕巨大的噪音和红色,于是人们便用爆竹声、鼓声、红绳子和用红纸书写的春联来吓唬和驱赶它。因此,中国人才把庆祝农历新年成为"过年",也就是"赶走年兽"的意思。
与日期固定的圣诞节不同,由于中国农历纪年的灵活性,中国新年的具体日期也往往摇摆不定。一般来说,人们会在公历一月底或二月初迎来新年的降临。除夕夜,是千家万户的团员夜,丰盛的年夜饭是所必不可少的。通常在新年的头三天,人们会走亲访友,举办丰富多彩的节庆活动。
传统上,新年的庆祝活动会以另一个重要的节日作为压轴——元宵节。节日当天,人们会品尝寓意珍惜团圆时光的元宵(即"汤圆"),点起各式各样的灯笼,寄托自己对新一年的美好祝愿。
尽管存在这些表面上的区别,当圣诞老人与年兽狭路相逢的时候,却产生了一些有趣的现象。近年来,中国的基督徒数量已经突破了一亿,使得圣诞节在中国的影响力与日俱增。此外更重要的是,商家发现圣诞节是个非常有效的促销噱头,因为人们在这一天都热衷于交换礼物。圣诞老人在中国已经开发出了一套引人注目的"本土化"战略。尽管圣诞节并非中国的官方节日,但在这片地域辽阔的土地上,它正成为越来越多年轻人心目中的盛大派对。
————————————————————————————
About the author: Lizhi (Roger) Zhao who is doing internship in TTC wetranslate, has been in the UK for over 3 years and has been granted an MA in Chinese-English Translation and Interpreting by the University of Essex, as well as an Academic Certificate of International Law by the University of Bristol. With good knowledge of law, culture and IT, he is passionate about becoming a professional and specialist translator. Follow Roger on Facebook (https://www.facebook.com/Roger.Zhao1986), Twitter (https://twitter.com/zlzroger) and Sina Weibo (http://www.weibo.com/roger1103).