TTC wetranslate has over 30 years of interpreting experience in over 100 languages, in locations across the UK and internationally.
Whether it's a conference, exhibition, or an important client meeting, TTC wetranslate has you covered! With a team of highly professional and punctual interpreters who have years long experience in the field, TTC wetranslate is the right address for your interpreting enquires!

We offer the full range of interpreting services from simultaneous, consecutive and whispered interpreting, to British Sign Language interpreting.
Our interpreters are highly experienced, qualified professionals who have the required professionalism to enable effective communication in complex situations, including interpreting multiple languages for conferences and exhibitions to court proceedings and tribunals.
Request a FREE interpreting quote
For more information on our interpreting services, call us on +44 (0)1245 216930 or click here for a free interpreting quote.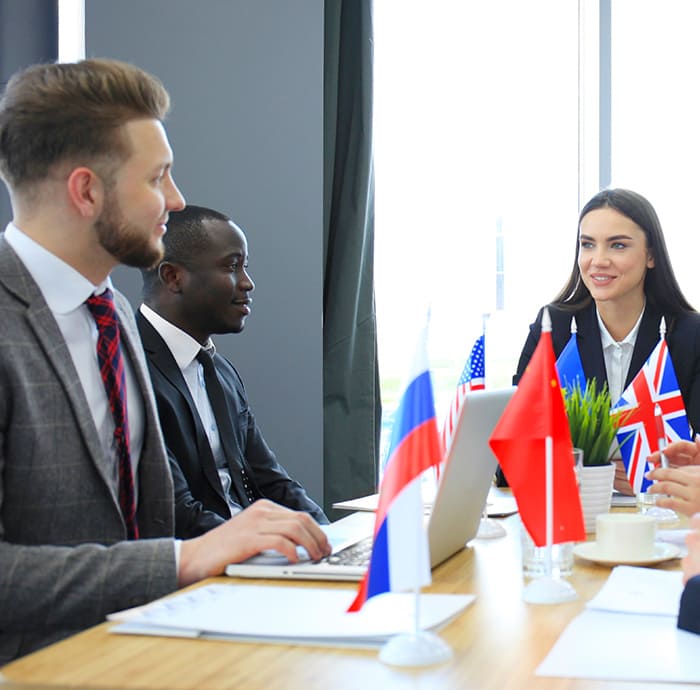 Conferences

Exhibitions

Business meetings

Court proceedings

Tribunals

Medical appointments

Training courses

Business interviews
We offer face-to-face interpreting services, where the interpreter is present at the appointment and also telephone and video interpreting where the interpreter is accessible remotely.
Click here to find out about our Simultaneous Interpreting Service
"4th time I've used their translation services and again faultless experience. Easy to communicate and efficient work. Thanks again."
"Your British Sign Language interpreter was kind, caring and very professional. He discussed matters directly with my sister, informing her of conversations which were taking place between the professional and herself along with "ad hoc" conversations which took place outside of the meeting (something which is occasionally missed) during a meeting."
Need an interpreting service?
Book a free meeting to discuss your requirement
Who needs/uses interpreting services?
Interpreting services are required by individuals, professionals or public sector officers in order to communicate with speakers of other languages.
What types of interpreting services do you offer?
We provide various types of interpreting:
Adhoc or consecutive interpreting
Remote video interpreting
Conference interpreting (also known as simultaneous interpreting)
Telephone interpreting
Business meeting interpreting
Our charges are based on the type of interpreting we provide. It could be per hour, per day, per task, or even per minute. Also traveling and accommodation will be charged if interpreters need to travel. Please contact us for a free quote where we clearly state our charges. 
How experienced are your interpreters?
Our interpreters will have the appropriate experience and qualifications relevant to their assignment.
Do you provide interpreting equipment?
Yes we can source simultaneous interpreting equipment such as sound booths, headsets and a sound technician to oversee the process. 
What languages do you cover?
We cover over 100 language pairs. For list of our languages: https://ttcwetranslate.com/languages/
Is there a minimum booking time?
Yes, there is. This will change depending on the type of interpreting we undertake. We will clearly state this in our quote form.
Will there be cancellation charges?
When an interpreter is booked for a specific time and date, they are essentially reserving that time exclusively for that client. Last-minute cancellations mean that the interpreter loses the opportunity to take on other assignments they could have otherwise accepted.
Availability of suitably experienced interpreters can be a concern, especially for high-demand languages or busy seasons. In this respect, booking as early as possible will ensure that we can reserve the most suitable interpreter for your project.
What is the difference between simultaneous and consecutive interpreting?
Simultaneous interpreting is fast-paced and well-suited for large, formal events, while consecutive interpreting is more relaxed and better for smaller, more intimate settings.
Both methods have their own advantages and disadvantages, and the best choice depends on the specific needs of the event or meeting.