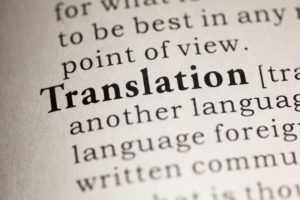 A landmark competition designed and run by TTC wetranslate and the University of Essex is now underway.
Press representation: Dakota Digital
Contact: Rebecca Appleton
Email: Rebecca@dakotadigital.co.uk
Tel: 01623 428996
An innovative real world challenge set up by the Essex Enterprising Business of the Year and the University's Department of Language and Linguistics, the Translation Challenge competition is being contested by a total of 76 final year undergraduate and postgraduate students, split into twenty groups. The groups are working on a business translation commission from TTC wetranslate, which will see students flexing their linguistic muscles in Chinese, French, Italian, Spanish and Portuguese.
The groups will each work on a translation project for The English Cream Tea Company, an award-winning Essex firm, which in just two years has gone from strength to strength offering the 'Very Best of British' and the wonderful tradition of afternoon tea. Stocking a range of quintessential treats, it has noted interest from around the world, including Russia and China, in the 'proper' way to take tea and has a number of products available for international shipping. The local company is also looking to expand its international presence via the creation of a licensing and distribution network, making it the ideal project for the Translation Challenge students.
The competition launched on Wednesday 15th January and will run for another three weeks. Students taking part have already thrown themselves into the tasks set by TTC wetranslate and are eagerly learning all they can about applying their academic teachings to a real translation commission.
Ignazia Posadinu, Director of the MA in Translation, Interpreting and Subtitling at the University of Essex said, "Students are taking the challenge well and are working really well together, we never had so much enthusiasm for translation. Surely the magic ingredient is the fact that they are translating for a real client!"
Managing Director of TTC wetranslate, Levent Yildizgoren said, "It's been incredible to see how eagerly the 56 students working on European languages and 20 students on Chinese have approached the challenge. The event is already showing that there is a lot of new talent just waiting to break into the translation industry and lots of enthusiasm for languages coming out of the University of Essex."
The winning team will be announced on Wednesday 19th February at the University of Essex. The competition has so far been featured by BBC Essex and the Essex Chronicle.
For more information about TTC wetranslate Ltd visit http://www.ttcwetranslate.com/
About TTC wetranslate Ltd: Established in 1992, TTC has a strong history of providing specialist translation services to businesses across the globe. Its highly trained team of expert translators can handle every industry from medical to financial.
Editor's Note: Issued by Dakota Digital. For more information please contact Rebecca Appleton. Email: Rebecca@dakotadigital.co.uk or Tel: 01623 428996.