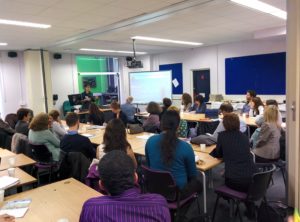 TTC Managing Director, Levent Yildizgoren, spoke about how universities and translation companies can work together successfully at the European Graduate Placement Scheme (EGPS) Conference and Placement Fair at London Metropolitan University on Friday 6th November.
EGPS aims to improve the employability of Translation graduates by creating a framework for practical work placements and a curriculum model for universities. It is funded by the European Commission and more than 30 universities and 60 employers have joined the scheme.
The fair on 6th November provided a unique opportunity for academics to share approaches, discuss internships and plan future collaboration with language service companies.
A collaboration success story
In 2016 TTC will organise the 'Translation Challenge'. Every year TTC joins forces with the University of Essex to organise the challenge, in which students work on a real translation project for a real client. Last year around 130 took part, working in different language teams. The client was The English Cream Tea company, who were very happy with the students' work and found it very helpful for their business. The students got feedback from experienced translators and project managers, which was a great learning opportunity.
TTC has also given many students internship opportunities with the company. We are keen to nurture the translators of tomorrow.
Why should translation companies get involved with EGPS?
Taking on interns has numerous benefits for translation companies. It provides an extra member of staff during busy times and they could even find a future permanent employee. It helps develops a new generation of skilled freelance translators, and improves the company's public relations. Interns also inject innovative new ideas and expertise.
If you have any queries regarding the Translation Challenge or internships at TTC, please contact Levent at levent@ttcwetranslate.com or call +44 (0)1245 216930