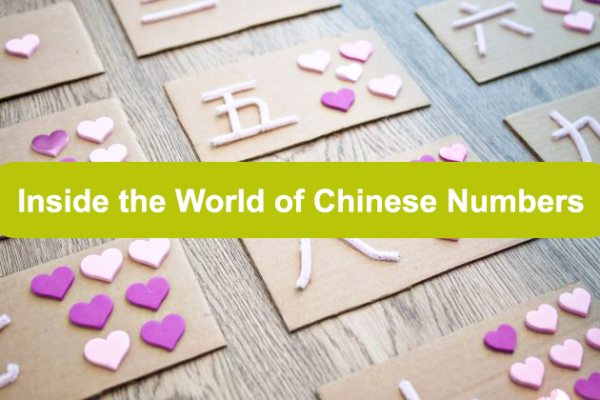 Despite the general opinion that the Chinese language is one of the hardest languages to learn, there is another group of people who respectfully disagree. Contrary to European languages, in Chinese there is no such thing as verb conjugation. There is no gender, no plurality or even no tense – they establish the time with a variety of indicators. All these differences make the learning process easy for some people and difficult for the other.
Considering Asia's extremely mountainous terrain and the fact that the size of Asia is four times bigger than the size of Europe, it is not so surprising to notice such difference in both culture and language.
One difference is how Chinese people perceive and use numbers:
Lucky or Unlucky
They believe certain numbers are auspicious and some are inauspicious. This belief is so strong that it can result in breaking a business deal with China. If you're trading with China, you should be well aware of that number 4 is very unlucky because it sounds like "death` in Chinese. The Chinese people try to avoid using number 4 in any situation such as choosing phone numbers, choosing dates for their events or their house/flat numbers, and you should do so, too, in your business with them.
On the other hand, number 8 is regarded as the luckiest number in Chinese culture. The pronunciation of the number 8 sounds similar to the word "to prosper" so all businesspeople favour it very much. In 2016, a bidder paid 18.1 million Hong Kong dollars (1.8 million in Pound Sterling) for a license plate which bears the number 28. In Cantonese "28" sounds like "easy prosper".
520 = I love you
The Chinese love playing with homophones. Often they use only numbers in their communication, for example, "88". It simply means goodbye because the word 8 (ba) sounds similar to (bai), therefore "bai bai". It is called Chinese internet slang, and there are many other things you can say with numbers thanks to the abundance of homophones in the Chinese language:
520 (wǔ èr líng) -> 我爱你 (wǒ ài nǐ) -> I love you
4242 (sìèrsìèr) -> 是啊是啊 (shìa shìa) -> Yes, Affirmative
995 (jiǔjiǔwǔ) -> 救救我 (jiùjiù wǒ) -> Help
The smaller the number, the bigger the discount
It's always a good idea to look out for the best deals and prices. However, if you think you see a 90% discount on a Chinese shopping website or a store in China, you should think twice.
The discounts are usually marked with big signs, but the Chinese discount signs read quite different than you might expect. In China the discounts work the opposite way and if a sign shows 9 折it actually means you will pay 90% of the total price, hence 10% discount. Again you might be confused and wondering how 9 refers to 90%. It's because 9 折 means 0.9 times the price, it indicates the percentage of the original price. If an item costs £100, the final price you are going to pay is 0.9 x £100 = £90.
8 折 -> 20% off
8.5 折 -> 15% off
2.5 折 -> 75% off