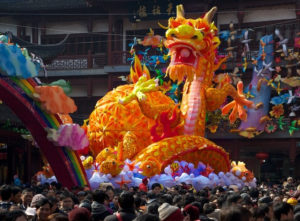 Over a billion people in China and across the globe have been celebrating the Chinese New Year since last week. Celebrations began on Sunday 7th February and will run until the Lantern Festival, held on the 15th day of the New Year.
2016 is the Year of the Monkey and the Chinese Zodiac declares that people born under this sign are gregarious, intelligent and witty. Some famous people born under the Monkey sign include Julius Caesar, Leonardo da Vinci and Mick Jagger.
Read below to find out more about the Year of the Monkey…
London Celebrations
The world's biggest celebration of the Chinese New Year outside of Asia is in London, where thousands are expected to mark the occasion with a parade in the city's China Town. In previous years the parade has included an official opening ceremony and entertainment such as acrobatics, traditional dance and music.
How you can celebrate
To bring luck to your year, Chinese tradition dictates that you should buy something red for yourself or your house. Paper-cut window grilles, lanterns and monkey toys are all ideal decorations to have for celebrating Chinese New Year and bringing good luck.
If you feel like going out to celebrate, why not go for a meal in your local Chinese restaurant, or if you truly wish to celebrate the New Year in style, you can spend some time at any venue in a tall building. InChinese culture if you "climb high and gaze far" on New Year's Day or the following day you will enjoy good luck in your business, career and studies.
Lucky Signs for the Monkey
The Chinese Zodiac is rich with meanings and understandings. The lucky numbers for those born in theyear of the Monkey are 1, 7 and 8 and the lucky colours are white, gold and blue.
Have a Chinese translation project?
We have you covered. Our Chinese teams are available to assist with projects during this year's celebrations, however we will request slightly longer deadlines than usual from now until February 15th.
If you have a Chinese translation project, you can contact us for a free, no-obligation consultation. Please complete a short form here or email us at info@ttcwetranslate.com or call +44 (0)1245 216 930.