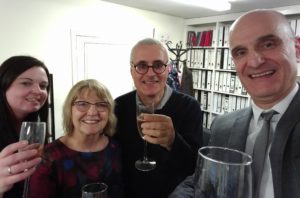 From left: Abi Hatter (Operations Manager at TTC wetranslate), Gerta Badde and James Valentine (founders of Bedford Translations),Levent Yildizgoren (co-founder and Managing Director of TTC wetranslate)
TTC wetranslate Ltd has acquired Bedford Translations, a highly regarded technical translation company with over three decades of experience in the translation industry. The acquisition took place on 6 April 2016.
James Valentine and Gerta Badde, who began their entrepreneurial journey in 1983 built Bedford Translations as a well respected, quality business. The addition of Bedford Translations to TTC wetranslate Ltd will bring many new opportunities and customers of both companies will benefit from the strengthened position of the combined entity.
'We are happy to have found a translation agency with similar values and high regard for quality' – says Levent Yildizgoren, Managing Director of TTC wetranslate. 'We are very excited that we are gaining the skills and expertise of the Bedford Translations team'.
About Bedford Translations 
Bedford Translations founded in 1983 by James Valentine and Gerta Badde, is also full member of the Association of Translation Companies (ATC) and a corporate Member of the Institute of Translation and Interpreting (ITI). They specialise in technical, legal and financial translations. Their clients include ITV Studios Limited, Pearson Longman, Kier Construction Ltd, Satra Technology Centre, Agroscope Reckenholz-Tänikon Research Institute, PCC Sterling Ltd.Website: www.bedfordtrans.co.uk Tel: 01234 271 555