This post is also available in: Türkçe (Turkish) Deutsch (German)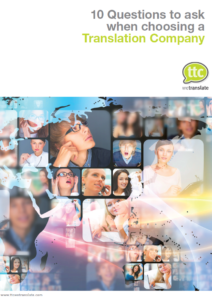 When taking the first steps towards establishing a working relationship with a translation company, there are many things to take into consideration. While there are a plethora of translation companies in the UK, from one-man bands to large multinational corporations, it is essential that you get the right fit for you.
We've compiled this list of 10 questions you should ask translation companies before you take the first step, so you can make an informed decision.
If you have any questions about any of the points raised, or would require assistance with a quotation, please feel free to contact our Managing Director Levent Yildizgoren. His email address is
levent@ttcwetranslate.com
and our telephone number is
+44 (0)1245 216930
.
We hope you find this useful.