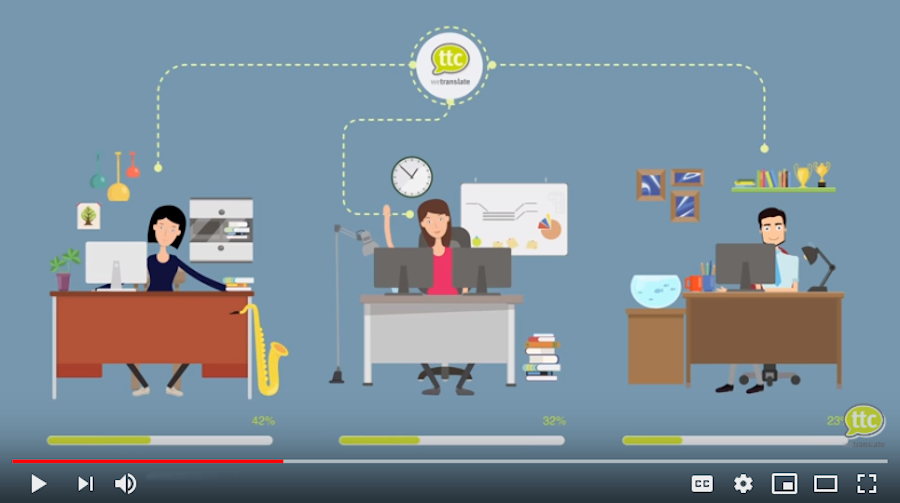 In case you didn't know, TTC wetranslate has its own YouTube channel. There's a wide range of videos from promotional items through some of our charity work and useful information for companies looking at their translation options.
However, this isn't a promotion for our YouTube channel!
Using our in-house resources we've created multilingual subtitles for most of the videos. These can be accessed when you see a small icon on the bottom right of the screen with 'CC' – and then use settings to choose your language.
There are two types of added text for videos:
What's the difference?
Close captioning (CC) is a very close transcription of the dialogue, replicating almost exactly what's being said, i.e with any mistakes or stuttering. Close captions will also include any other sound information which would otherwise be unavailable for a hearing-impaired consumer, for example birdsong, music or a gunshot.
Subtitles are often a more condensed, concise version of what is said, intended to distract the consumer as little as possible. Therefore, sometimes the content of the subtitles is different from what is said in order to give the viewer enough reading time, particularly when there are a lot of fast shot changes. In subtitles, any mistakes or stumbling over words is 'smoothed out'. Subtitles are designed for those who can hear the audio, but cannot fully understand it, for example language-learners. Subtitles can also be done in other languages to open up a whole new viewer base.
Why is this a good thing?
If you're aiming to reach an international audience it pays to let them get your message in a language that is comfortable for them, instead of forcing them to try and process what, for them, is a foreign language.
It makes your information more accessible to a much wider audience. And being more accessible is one of the top goals of all big global brands.
Also even native speakers of your original language may appreciate the text version. They may be deaf or hard of hearing or they may be in a place where it's not possible or difficult to hear the audio track (at work or in a very quiet or very noisy environment).
How do you get your videos translated?
YouTube has the facility to add text to video that's already loaded. Many of our clients use this and they provide us with access to their videos along with a list of languages they want each video to be translated into.
Our team of experts goes to work and the result is a captioned video that can be used on YouTube, your website or social media.