When hearing a new language for the first time, it may seem like a random combination of strange sounds, but language is essential to our daily lives. It's not just words, but the tone of voice, hand gestures and body language we use to use to interact, socialize and express our deepest thoughts and emotions.
We know every language is different, but it's goes far beyond accents or even a different alphabet. Language shapes how we understand the world around us. Some isolated languages in the world such as the Sambali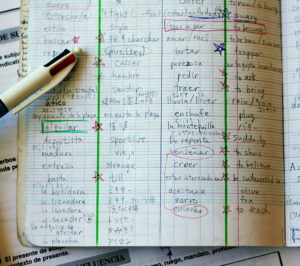 Language spoken in the Philippines, lack the concept of left and right or in front of and behind of and instead use East and West, or North and South in order to describe the location of something. For example, rather than "The book is left of me," they might say, "The book is west of me." (But not in English obviously!)
This is why learning a new language is so challenging to many of us. Most people start by comparing the new sounds or words they learn to their own languages, however they quickly stumble upon words which cannot be translated literally into English. In my own journey I have come across many beautiful examples of words which convey meanings and emotions that stretch beyond the limitations of English.
Here are a few of my favourite finds:
Gattara (Italian) – An old and mad woman who has devoted her life to looking after stray cats, just like the Crazy Cat Lady from The Simpsons!
Sobremesa (Spanish) – The time spent after a dinner or lunch talking to people you shared the meal with.
Torschlusspanik (German) – Try saying that one! Literal translation, 'Gate-closing panic',the fear of diminishing opportunity as one gets older.
Dépaysement (French) – The change of scenery and disorientation one experiences when abroad.
Iktsuarpot (Inuit) – That "are they here yet?" feeling of anticipation when waiting for someone to show up at your house. (We all know the feeling!)
Zapoi (Russian) – Describes two or more days of drunkenness, generally involving a journey, and waking up in an unexpected place. (Some of us know that feeling!)
Age-otori (Japanese) – To look worse after a haircut, English desperately needs this word!
Duende (Spanish) – The mysterious power of a work of art to deeply move a person.
Joe Di Trolio is a student in his final year at the University of Essex and has studied Italian, French and Spanish. He has a passion for language, travelling and great food.
Twitter: joeditrolio
Photo credit: Brother O'Mara