This post is also available in: Deutsch (German)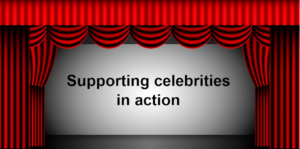 When you watch documentaries and games shows you never think about what goes on behind the scenes – except for perhaps wondering how they got a particular camera shot. So we're about to pull back the curtain a little.
The first time we got involved in celebrity action was early in 2017 when our sister company, Bedford Translations, was asked to do some translations of consent documents for Saturday Night Take Away.
Regular viewers of this popular programme with Ant and Dec pulling gags and other features using the general public will be familiar with the Sofa Watch feature. A sofa is placed in a secret location and by the end of the show people have to find the sofa and go to the location.
To celebrate the RBS Six Nations 2017 Sofa Watch went international and sofas appeared in Paris and Rome. Clearly for members of the public to consent to appear on TV the forms needed to be in the native language – and these important legal documents needed to be signed.
The latest TV programme to use the Bedford Translations service was the two-part documentary Gordon Ramsay on Cocaine, that recently appeared (October 2017­).
Gordon Ramsay lost his friend, chef David Dempsey, in 2003. David fell to his death after taking cocaine and Gordon set off to investigate the source of the drug and how it's produced.
As much of the action took place in Colombia, South America, all the legal documents had to be translated into Spanish – specifically Colombian Spanish. This had to be done before filming started to ensure that everything was signed off and permissions granted.
Although not a word of our translations appears on screen, the accurate translation of documents is essential for these programmes to be aired. Maybe a small cog in a much bigger wheel, but one without which the wheel wouldn't turn.