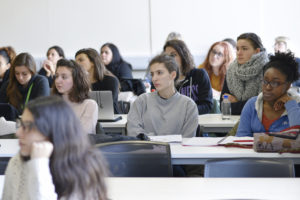 The 4th annual Translation Challenge has kicked off for 2017! This exciting competition tests the translation skills of graduate and post-graduate students from the University of Essex.
Participants in the challenge are asked to translate a real-world business proposal into a number of different languages, including Chinese, French, Arabic, Italian, German, Portuguese and Spanish. Each student is a part of a group that is given different languages to work with. The 2017 Translation Challenge has no shortage of competitors with more than 50 students participating.
This year, the business document being translated will be provided by TDI-Tuning Limited — an innovative company based in the UK who provides electronic tune boxes for turbo engines to more than 70 countries, so they understand the importance of having accurate and engaging translations for their business documents.
Students participating in the competition will be translating a case study provided by the company. All translations must be accurate, friendly in tone, and engaging for readers.
The Translation Challenge is a fun, interesting, and exciting way for participants to test their translation skills. Because the challenge involves a real-world business document with complex language, participants are really put to the test! They will discover how well they can perform in a realistic scenario. Students are given a professional deadline and must perform their translations to an extremely high standard.
The challenge is coined by Levent Yildizgören, Managing Director of TTC wetranslate Limited and organised by the Department of Language and Linguistics of University of Essex and TTC wetranslate Limited. This year, the competition launched on the 18th of January and awards will be presented on the 22nd of February.
How the Translation Challenge Can Benefit Your Company
Some of the benefits that companies obtain by participating in the challenge include:
It is a very fast way to have your business documents translated
Documents used in the challenge are translated very quickly by dozens of talented graduate and postgraduate students. It is one of the fastest and most accurate ways to have business documents translated.
Savings for your business
Translating business documents can be expensive. By participating in the Translation Challenge, businesses can make substantial savings.
The translations performed are of exceptional quality
Participants in the challenge are talented graduate and post-graduate students who are competitive and highly focussed. They create translations that are accurate and engaging for the reader.
The types of businesses that can benefit from participating in the Translation Challenge include:
Businesses already selling to international countries
The Translation Challenge is a great way to have manuals, warranties, and promotional material translated into other languages.
Businesses that regularly communicate with international suppliers
The challenge can be used to translate business letters or emails, ensuring your translated communications are word perfect.
Businesses that have a particular challenge they wish to overcome
You might be interested in obtaining translations to make your Youtube multi-lingual or having subtitles created for a promotional business video.
Businesses considering an expansion into overseas markets
If your business is considering a move into overseas markets, having accurately translated business documents is crucial — the Translation Challenge is a fantastic way to prepare those documents!
Want to Get Involved?
If you would like your company to take part in next year's challenge, please contact Levent Yildizgoren at levent@ttcwetranslate.com. We hope to hear from you soon!