This post is also available in: Deutsch (German)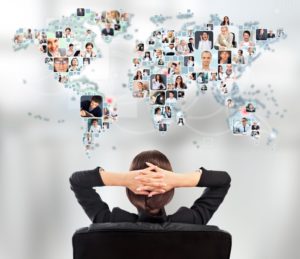 Over the past decades, exhibitions became bigger and more international. Exhibitors do not only present their newest products or services, they seize the moment to engage with their customers and network with their colleagues from all over the world. Certain events are only aimed at companies and the press, others are open to public – this is already the first issue that exhibitors have to face. Depending on the visitors' status and background, your presentation and choice of words have to be considered accordingly. Beyond that, there are several other pitfalls in exhibiting internationally.
Here are 5 mistakes to avoid when exhibiting internationally:
1. Not using Social Media
You could simply attend the exhibition and hope for people to show up at your booth randomly but your chances to be noticed will increase if you let people know you will be there beforehand. Use Social Media for your advantage, give a brief information on the event (where will it be, when will it be, who is it for etc.) and invite your followers.
For international exhibitions, it will be useful to spread the information not only in your own language but also in the language of the host country. A German company that will exhibit in Spain should not stick to German but give out information in Spanish as well.
Moreover, you should consider which Social Media platforms are popular and used in your target country. Facebook is for example blocked in China – so, if you attend an exhibition there, you should not advertise on Facebook. Instead, consider China's most popular Social Media platform WeChat. The network has over 900 million users daily who spend an average of 70 minutes a day on there. Basically, WeChat can be used for everything – besides simple posts like on Facebook, flights can be booked, bills can be paid, investments can be made and so many more things can be done. Businesses can create an official page to promote themselves and interact with their customers; this is definitely worth thinking about.
2. Arriving unprepared
Before you can attend an exhibition, you have to prepare yourself and think about what to bring – after all, you want to convince your audience and make a lasting impression. Keep in mind that your company won't be the only one they talk to, things might get mixed up in the end. To avoid this, bring leaflets and business cards to hand out.
You will already have those materials in your own language, but do you also have them in other languages? If you want to do business on an international level, it is necessary to specifically address the target audience and the best way to do this, is by giving out information in their language(s).
TTC wetranslate is experienced in translating and localising business materials, such as leaflets and business cards. We are happy to help your company with this and boost your global business contacts.
Other than that, you should do some research on the host culture yourself. What are the local norms, values and traditions? What is expected in terms of hospitality? What attire is appropriate? How do you greet people? Is small talk suitable?
3. Uninviting and unsuitable presentation of the booth
Now that the people know you attend the exhibition and you know what to bring, you have to gain their attraction on-site. Usually, you will get a booth. This is the first thing to be noticed from afar and can be crucial for the decision whether to approach you or not. Therefore, the presentation should be well thought through. If your booth is cluttered, the visitors will link this to your company and your business management. To avoid this, you have to keep things organised. Tables with marketing leaflets and possible giveaways should be in the background to allow an unimpeded contact with your clients.
You should also consider your colour scheme because colours have different meanings in different cultures. While several Asian cultures associate the colour red with luck and happiness, the Middle East links it to danger, caution and evil. In North America, the colour yellow is considered to signify warmth, summer and hospitality but in most parts of Latin America it is connected with death and mourning and in Africa, yellow clothing may only be worn by people with a high rank in society. In Ireland, green is the national colour and represents luck but wearing a green hat in China says that a woman cheated on her boyfriend or husband. Having this in mind, you should think carefully about your clothing and the design of your booth.
4. Having unqualified staff
You should consider wisely who you want to represent your product and your company. Having your in-house sales personal would certainly be beneficial to sell your products but it is recommended to train them in terms of working at exhibitions but more importantly to train them culturally. If they know everything about your products but offend the customer because of inappropriate behaviour or language, this would be counterproductive.
In Germany, exhibitors often employ fair hostesses. These are usually university students who take advantage of the opportunity to gain money with a short-term job alongside their studies. Since the payment is above average, these positions are very popular and you won't have problems to recruit someone. The advantage in using this kind of staff is that they are familiar with the local culture and speak the language fluently – however, they will probably need an induction to your company and your products.
To meet all needs, a combination of your in-house personal and local staff would probably be the most beneficial. The local staff can function as first point of contact and forward the visitors to the in-house personal for more technical discussions. Overall, they will profit from one another and in turn, represent your company decently.
5. Not engaging with the visitors
Lastly, the social aspect of exhibiting is critical. Greet the people appropriately, learn the verbal and non-verbal conventions of your host country and apply them. While hand-shaking might be a common convention in your home country, it might be more difficult in other countries. How long should the handshake be? Who offers the hand first? Firm or loose handshake? Is it allowed to shake hands with the opposite sex? Are handshakes considered impolite? You probably won't think about any of these questions in your home country, but being elsewhere, the wrong behaviour might jeopardise with a potential business.
After the greeting, you don't want to bore your potential clients or colleagues with a lecture. Instead, interact with them and offer something practical. If you offer a product, show them a sample, this will give them a chance to become more familiar with it and enables them to ask more specific questions. You might even offer something that your target audience is entirely unfamiliar with, for those situations, having a sample will raise their attention.
If you have enough space and it corresponds to your company and your product or service, offer something interactive. For example, have a backdrop and requisites to take pictures – you can take the pictures and share them on your Social Media platforms (with the visitors' consent) or have them take pictures themselves and ask them use a certain hashtag to share them. This will promise a different way of follow-up after the exhibition and you will stand out from the crowd. Here, it is again relevant to consider the host culture and adjust your offers accordingly.
The next time you attend an international exhibition, keep these points in mind. This will save you from any inconveniences and promise the event to be successful.